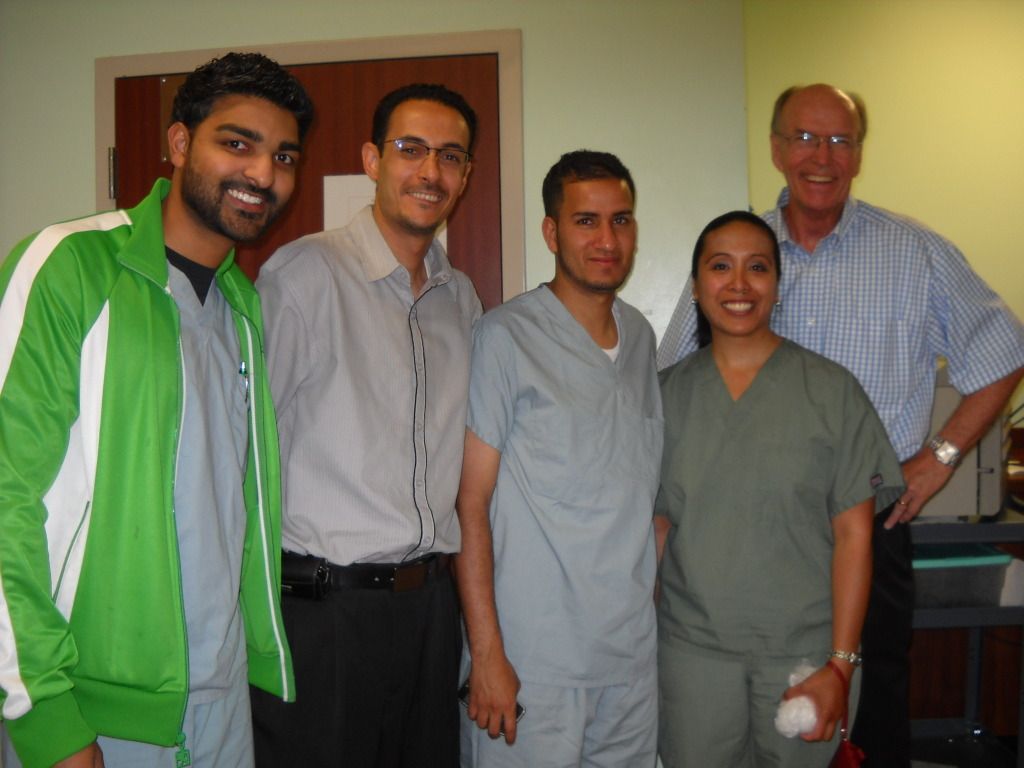 Covenant Community Care has taken on wheels and she is rolling; there will be no stopping her now! A new Community Based Dental Program has been initiated in partnership with the University of Detroit Mercy School of Dentistry (UDMSD) and several health clinics and social service agencies in Detroit. Everyone is benefiting from this collaborative effort.
Dr. Tom Storen, pictured here with Dr. Heidi Hudson and three UDMSD students, Omar Amsari, Adnan Alamdi, and Bassam Ali, is the driving force for this new project. The word "retired" is like a revolving door – he comes in and out of it and Covenant Community Care is always the beneficiary! He has begun clinic after clinic after clinic, always managing to bring the best and the brightest to work alongside him. Dr. Lynn Eickholt is Covenant Community Care's Dental Director. Dr. Heidi Hudson is the Director of the Community Based Dental Program.
The dental team simply rolls the dental clinic directly into the agency or health center, sets up and begins to treat people right on site. The team remains there for a week or so and will return several times during the year. In the first two weeks of operation the sites were Capuchin Soup Kitchen and Crossroads; 70 patients received x-rays and had a consult with the dentist. There were 30 extractions, 23 fillings and one cleaning. A compliment from a patient is heard, "You guys are real professional." And the words of a dental student confirms the success of the program, "We have done triple the work we would have done in dental school." Another adds, "I love this. This is something I want to do."
The shared vision for the program is to provide culturally competent and comprehensive training to dental students while serving the needs of low-income families with children, the uninsured and the homeless population in Detroit. The vision has become a reality and she keeps on rollin'.
Next stop S.A.Y. clinic; we are on our way.